PRPA SUPPORTS YOUTH-LED PROJECT TO REDUCE OCEAN POLLUTION
PRPA SUPPORTS YOUTH-LED PROJECT TO REDUCE OCEAN POLLUTION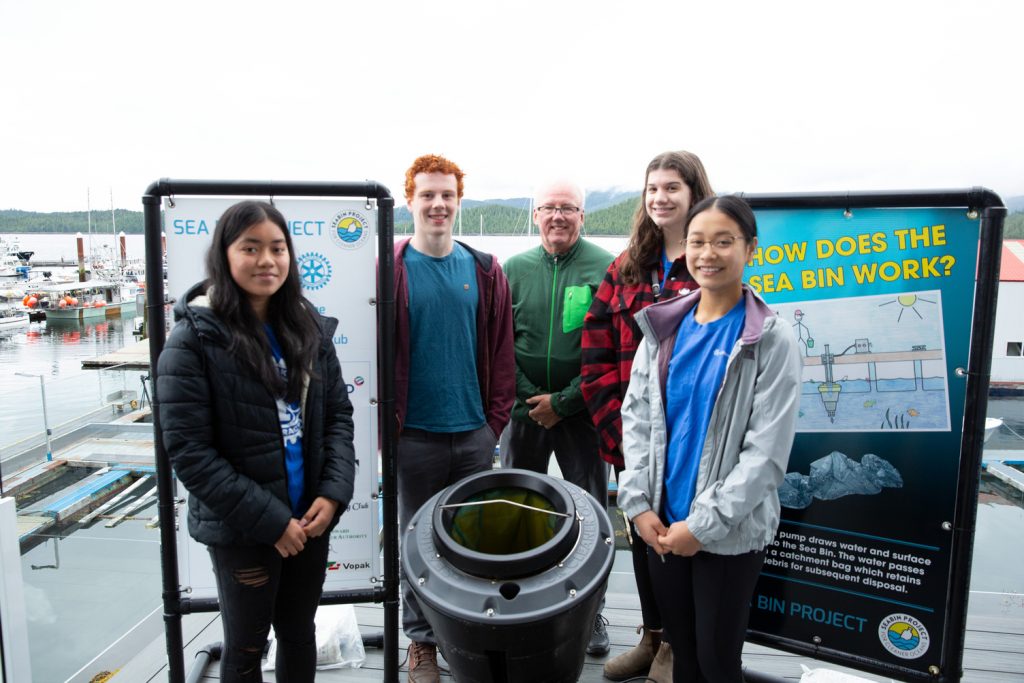 OCTOBER 13, 2021
Six new trash collection devices, specially designed to reduce ocean pollution, have been installed at four marinas around Prince Rupert and Port Edward. The Seabins were purchased by the Prince Rupert Rainmakers Interact Club thanks to a $27,500 investment from the Prince Rupert Port Authority's (PRPA) Community Investment Fund.
These innovative garbage skimmers are part of a global network of 860 Seabins located throughout North America, Europe, Asia, Australia, and the South Pacific. The devices are equipped with an electric submersible pump that draws water from the surface into a bag which traps floating refuse, including microplastics as small as two millimetres. With an average catch of 1.5 kilograms of waste per day, each Seabin can collect nearly half a tonne of debris each year.
"It is inspiring to see the young members of the Rainmakers Interact Club making an impact on both local and global levels through the Seabin project," said Shaun Stevenson, President and CEO, Prince Rupert Port Authority. "Their efforts to promote and invest in sustainable solutions that benefit the environment and the community sets an example for current and future generations, and we are proud to be a part of this initiative through our Community Investment Fund."
The Rainmakers Interact Club launched its campaign to buy the Seabins with support and guidance from the Prince Rupert Rotary Club, which sponsors the Charles Hays Secondary School service group. Through the collaboration, the young volunteers worked hard to drum-up community support by hosting multiple bottle drives and pursuing contributions from several local businesses and service organizations. The Interact Club successfully raised more than $62,000 and over the summer helped deliver Seabins to the Cow Bay Marina, Prince Rupert Yacht Club, Rushbrook Harbour and Port Edward Harbour Authority.
"We are grateful to be able to give back to our community by keeping it clean," said Faith Long, President of the Rainmakers Interact Club. "The Interact Club extends its appreciation to the Prince Rupert Port Authority and other Port partners including DP World-Prince Rupert and AltaGas, for their support on this important global sustainability initiative."
QUICK FACTS ABOUT SEABINS:
Seabins are coated with a repellant material, designed to protect wildlife and aquatic life from becoming stuck.
Worldwide, Seabins collect 3,600 kg of garbage each day, and to date they have captured more than 2.1 million kilograms of waste.
Globally, the most commonly caught items are: cigarette butts (29%), plastic pieces (28%), food wrappers (26%), foam pieces (5%), bottle caps (4%), straws/stirrers 2%, cans (1%), and bags (1%).
To learn more about the Community Investment Fund, visit https://www.rupertport.com/cif/.