Where We've Been
And Where We're Going
The Port Interpretive Centre is where residents and visitors alike go to discover what's happening at the Port of Prince Rupert. Our ambassadors answer your questions with the assistance of interactive exhibits, video displays, and children's activities to illustrate the Port world. Our guests are fascinated by learning about the products, vessels and vehicles moving through the Port of Prince Rupert, the communities and countries that we connect to, and the types of people and partners who make it all possible. Come and see for yourself what the the Port Interpretive Centre is all about.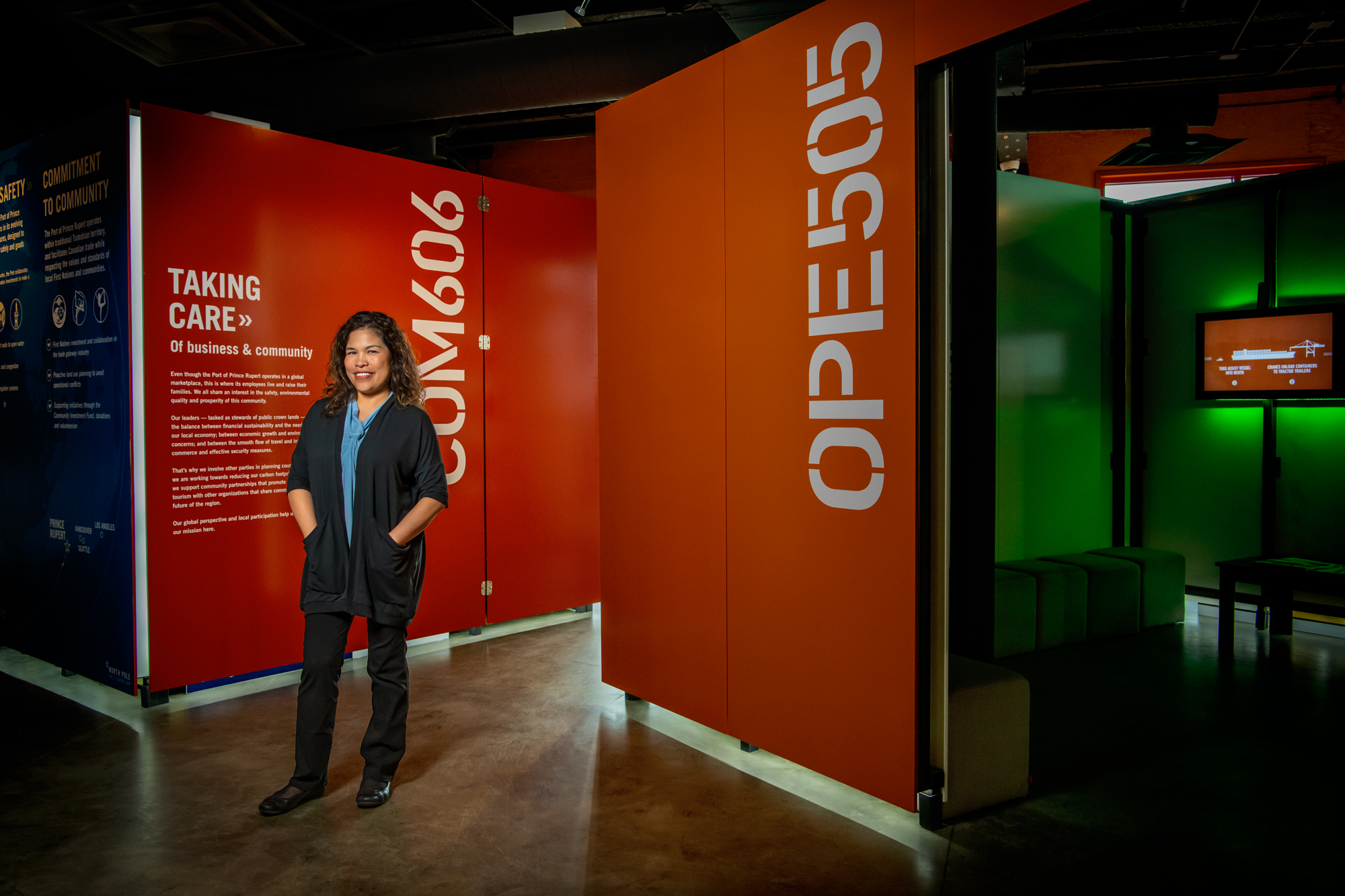 ---
Current Port Interpretive Centre Hours of Operation
As of November 1st, winter hours of operation are in effect at the Port Interpretive Centre. Visit us in Cow Bay:
Open 5 days per week
Tuesday to Saturday
12:00pm – 4:00pm
For the safety of guests and staff, COVID-19 occupancy limits remain in effect within the centre.
---
On Display
Interactive Activities
The Port Interpretive Centre is host to activities that allow guests to touch, feel, and read their way through the Port of Prince Rupert. The trade route simulator is an interactive display that invites you to explore the hundreds of different products that move through Prince Rupert, and find out where they come from, where they're going, and what kind of vessels are used to move them. The harbour history timeline encourages visitors to travel through 10,000 years of local trade history and discover this region's fascinating evolution from First Nations trade routes to railways and the North American Gateway.
Video Experiences
The virtual terminal tour offers a unique ground level perspective of the operations of the Port's facilities, including Fairview Container Terminal, Quickload Logistics Intermodal Yard, Prince Rupert Grain Terminal and Ridley Coal Terminal.

The theatre hosts a series of short videos including an aerial experience of Prince Rupert, its harbour, and the vessels and people that make it go. Other interesting and informative activities include exploring a live feed of marine traffic in the Port and video displays about future Port projects.
---
Visitor Information Centre
The Port Interpretive Centre is a dual service centre where both visitors and locals can explore more than just the Port—we can also help you get the most out of your visit to our community. The Port Authority has partnered with Tourism Prince Rupert to provide you with great advice and up-to-date information about local accommodations, restaurants, fishing charters, and other Prince Rupert visitor tours and activities. As a member of British Columbia's Visitor Centre Network, our accredited counsellors provide guests with helpful travel information about Prince Rupert, northwest BC, and many other destinations in the province.