The Port of Prince Rupert offers shippers an unparalleled mix of speed, reliability, and reach for connecting Asian and North American markets.
Commonly referred to in the marine industry as 'The Rupert Advantage', especially as it relates to our intermodal capabilities, the Port of Prince Rupert stands out in a crowd.
---
Proximity to Asia
The shortest and fastest trade route on the transpacific.
The Port of Prince Rupert is the closest North American West Coast port to Asia, 500 nautical miles closer than other ports in the Pacific Northwest. This can save up to 60 hours' sailing time.
---
Safe Access to Shipping Lanes
Protect your ships and your schedules.
Our deep, wide, and protected approaches enjoy a short, direct access to and from Pacific shipping lanes and offers ample room for anchorages. That's why our pilot time is 2-6 hours less than other major Northwest ports.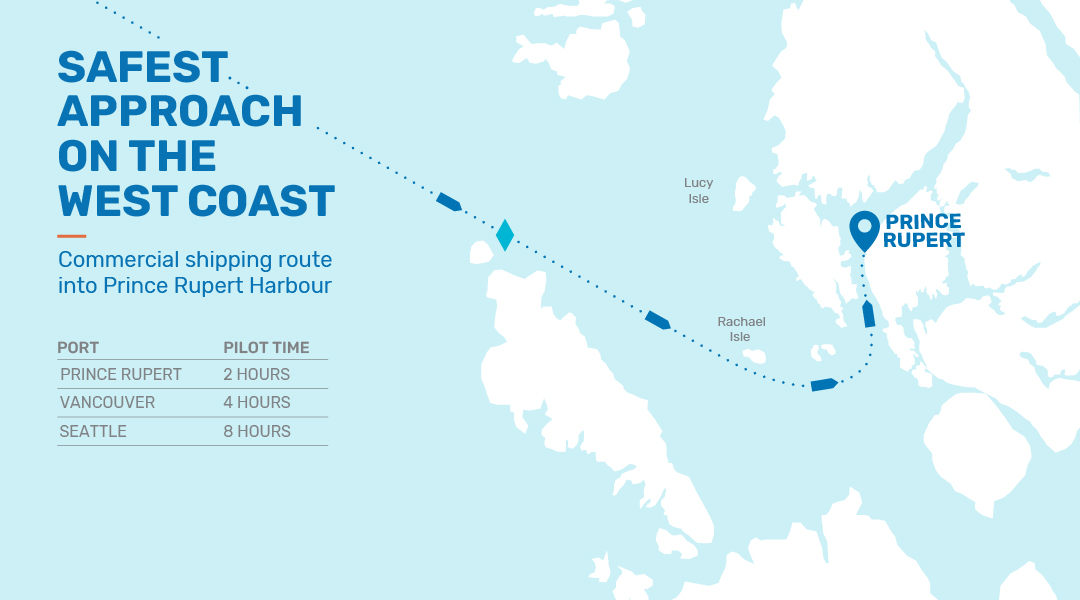 ---
Deepest Natural Harbour in North America
Major marine risks are greatly mitigated by the ideal natural features of our harbour. The Port of Prince Rupert has the deepest natural harbour in North America, is ice-free year-round, and is able to accommodate the largest vessels in the shipping trade.
Harbour depth at major west coast ports
| | | | |
| --- | --- | --- | --- |
| | Prince Rupert | Seattle | Los Angeles |
| Main channel depth | 35m | 16m | 16m |
| Terminal berth | 17-18m | 12m | 10-16m |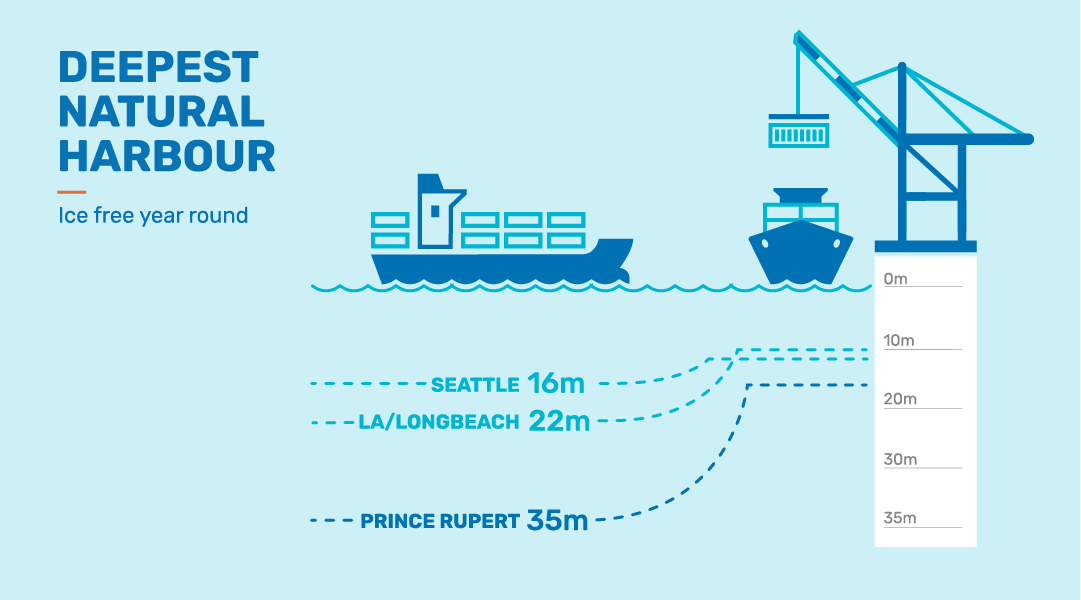 ---
Rail Reach Across North America
Superior and uncongested rail connection into North American markets through CN's vast network.
Prince Rupert has a direct, single-line connection to the extensive reach of CN's continental rail network. CN's northern mainline offers capacity, speed, and the flattest rail grade through the Rocky Mountains to and from resource-rich communities, innovative manufacturing regions and top-tier distribution centres in Canada and the US.
CN connects Prince Rupert to North America through its "coast-to-coast-to-coast" rail network, providing efficient and consistent access to key customers in Eastern Canada, the Midwestern United States, and all points in between.
---
North America's gateway for trade
With CN's connections to distribution hubs throughout the Midwest and clear to the Gulf of Mexico, Prince Rupert keeps containers moving to North America's biggest population centres.
Average rail travel time to Midwest Hubs from West Coast ports (days)
| | | | |
| --- | --- | --- | --- |
| | From Prince Rupert | From Seattle | From Los Angeles |
| To Chicago | 4.1 | 5 | 5 |
| To Toronto | 4.5 | 6 | 6 |
| To Memphis | 5 | 7 | 5 |
With Prince Rupert, it's easy to make the grade.
Trains travelling from Prince Rupert take advantage of the gentlest grade through the Rocky Mountains compared to any other West Coast port. Combined with our lack of urban congestion, that means high-speed performance—that burns less diesel.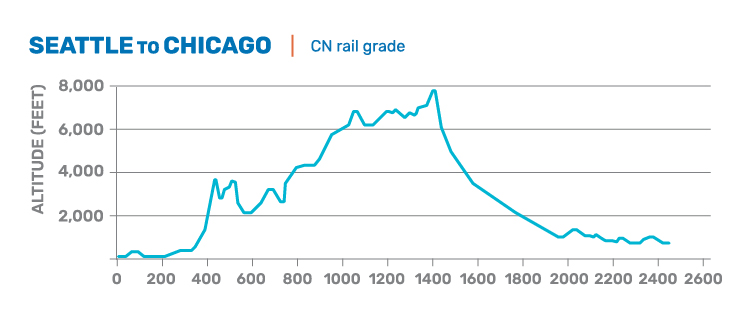 ---
Intermodal Service From All 3 Major Shipping Alliances
Weekly Marine Calls
| | |
| --- | --- |
| PNW | First North American port of call from Shanghai |
| CEN | First North American port of call from Qingdai |
| PN1 | First North American port of call from Busan |
| TP8 | First North American port of call from Busan |
Vessel Schedules
| | | | | | | | |
| --- | --- | --- | --- | --- | --- | --- | --- |
| Shift | Sun | Mon | Tue | Wed | Thu | Fri | Sat |
| 01:00 – 08:00 | PNW | PNW | – | PNW | – | TP8 | CEN |
| 08:00 – 16:30 | PNW | – | – | PN1 | TP8 | CEN | CEN |
| 16:30 – 01:00 | PNW | – | – | PN1 | TP8 | CEN | PNW |
---
Pioneering Intermodal Terminal Design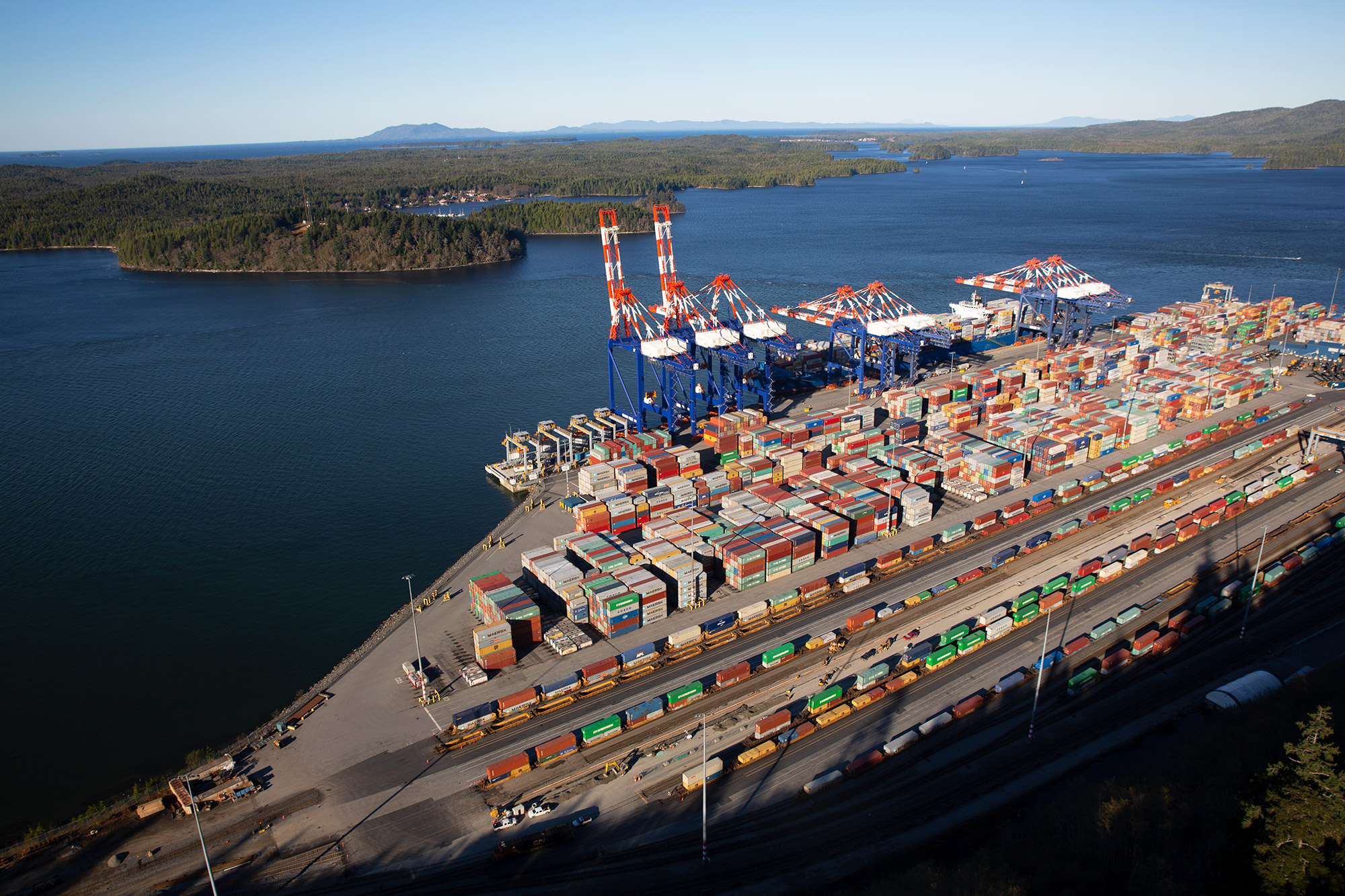 ---
Prince Rupert was the continent's first purpose-built ship-to-rail container terminal, and we continue to lead the way in supply chain innovation for our customers.
On-dock rail allows containers to move as soon as they've unloaded. This translates to industry-leading dwell times, which are among the lowest on the West Coast.
The simplicity of Fairview Container Terminal's design and operations makes it one of the most efficient port terminals in North America. One terminal, one rail line, and direct on-dock rail access means more than speed—it means you can depend on the reliable delivery of your cargo.
Shippers using Prince Rupert to diversify their West Coast supply routes have continued to increase their traffic here. Here's why:
CN Rail provides on-dock access to its northern mainline, eliminating urban conflict and congestion.
19,000 feet of on-dock rail capacity makes for fast and efficient train loading and unloading operations.
Container yard groups containers by final destination on a FIFO basis, maximizing terminal efficiency.
Full fleet of reach-stacker and top-lift equipment provide the mobility and flexibility to operate under any conditions.
---
Human Innovation and Community Support
Our leading edge goes beyond the physical attributes that make Prince Rupert an attractive port of call for shippers. What makes us unique is the activation of those advantages by the dynamic and hard-working individuals of the Port.
Our innovation adds tremendous value for our customers and partners, catalyzing growth in Canadian trade.
Our communities provide the human capital, resources, and vibrancy we need to keep operating and innovating. Strong communities sustain us. To understand more about the Port Authority's role in the community, visit the Community section of this website.
Remaining proactive and creative is vital to our ongoing success. We don't follow convention, we challenge the status quo and look for a better way—always.
We build strong, mutually beneficial relationships, creating sustainable prosperity for our communities, First Nations, our partners, our province, and our country. The Prince Rupert Port Authority is, at its heart, the people behind our thoughtful innovation.
---
We Value Your Opinion
To better understand the community's impression of our organization and the Port complex we operate, the Prince Rupert Port Authority undertakes regular third-party polling of stakeholders and community members to gather feedback. This information is invaluable to us and we ensure that every plan we make and every action we take keeps that input in mind.