Fairview Container Terminal
Pioneering Intermodal Terminal
The anchor to the most reliable container trade corridor on the West Coast. Prince Rupert offers shippers an unparalleled mix of speed, reliability, and reach for connecting Asian and North American markets. We were the continent's first dedicated ship-to-rail container terminal, and we continue to lead the way in supply chain innovation for our customers.
Fairview Container Terminal is a dedicated intermodal facility, purpose-built to provide a high-velocity gateway for transpacific container trade. Operated by DP World, the terminal provides shippers with a significant advantage over alternative gateways.
The terminal features two marine berths capable of accommodating the largest container ships with direct and unimpeded access from international shipping lanes. On-dock rail adjacent to the berth provides efficient intermodal operations in building trains of up to 12,000 feet.
Integrated scheduling and real-time communications between the shipping line, DP World, and CN Rail result in unparalleled terminal velocity and seamless transfer of containers between vessel and train. Served by CN Rail's North American network, the Port of Prince Rupert has fast and efficient connections to central Canada and the Midwestern United States, saving shippers time and money.
Carriers
We encourage shippers to connect with our network of carriers to discuss the benefits of utilizing Prince Rupert.
Terminal Performance & Dwell Updates
Click
here
for weekly updates on dwell times from Fairview Container Terminal.
Capacity & Performance
ANNUAL THROUGHPUT CAPACITY
BERTH UTILIZATION & CAPACITY
4 vessel calls/week
Berth Length (Container Quay): 800 m (2624 ft)
Berth depth: 17.0 m (55.8 ft) at low tide
21,000+ TEU Vessels (Handling capacity)
CONTAINER CRANE SERVICES
4 Super Post Panamax Cranes (22 container wide)
4 Malaccamax Cranes (25 container wide)
1,800-tonne cranes
ON-DOCK RAIL SERVICES
7 working tracks (5,500 m/18,000 ft)
6 storage tracks (6,100 m/20,000 ft)
On-Dock Intermodal Focus (IPI)
6 Rubber Tired Gantry cranes (RTGs)
120 reefer plugs (2x 5 High Racks)
Minimal Truck Gate Activity
Trains Built by Destination
SECURITY
4 Radiation Scanning Portals
On-site VACIS screening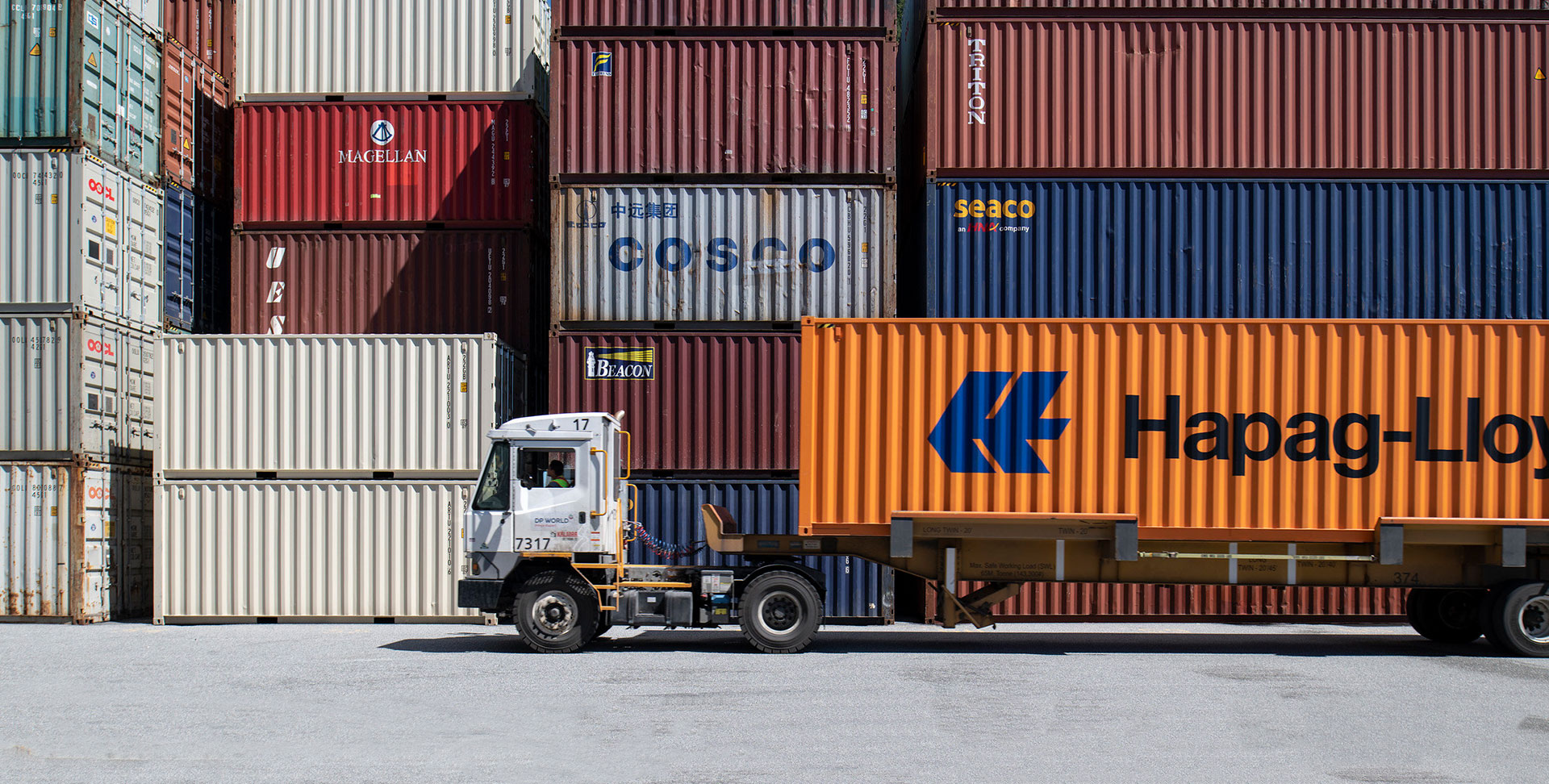 Terminal operations

Velocity & fluidity
Simplicity
On-dock intermodal focus (IPI)
Collaboration and cooperation of partners
Marine-Rail Interface
Trains built on terminal
Scheduled rail service
Terminal flow
Minimal truck operation
Scheduled coordination of trucking
with terminal (pick up / drop off)
DP World train crews
High terminal productivity
Weekly carrier service

Ocean Alliance – CPNW – first North American port of call from Shanghai
Ocean Alliance – CEN – first North American port of call from Shanghai
2M Alliance – TP1 – first North American port of call from Yokohama
T.H.E Alliance – PN4 – first North American port of call from Busan