Environmental Stewardship Certification
The Prince Rupert Port Authority is proud of our third-party certification achievements as they relate to environmental stewardship.

PRPA became the first West Coast port to join the Green Marine environmental program in 2010. Green Marine is a joint Canada-US initiative aimed at advancing environmental excellence in the marine industry, throughout North America.
---
The certification program emphasizes voluntary improvement of environmental performance in key areas identified by the marine industry and several stakeholders. These performance indicators include environmental leadership, greenhouse gases and air pollutants (specifically sulphur oxides (SOx), nitrogen oxides (NOx) and particulate matter (PM), water and land spill prevention (such as cargo residues and oily waters), community impacts (such as noise, light, dust, and odours), waste management, underwater noise, and aquatic invasive species.
The Green Marine environmental program provides a five-level framework for members to improve environmental performance beyond regulatory compliance. Participants evaluate their performance against guidelines and criteria provided by Green Marine; the results are published annually and verified by an independent third party.
PRPA's participation in the Green Marine environmental program has supported the achievement of its strategic environmental sustainability goals, and guided the development of many of its environmental initiatives. Many of the Port of Prince Rupert's marine terminals and service providers are also members in the program, creating a unified network of industry partners with a shared vision for environmentally sustainable practices. PRPA is also a member of the Green Marine West Coast Advisory Committee that brings together industry, academics, regulators, and environmental organizations to provide direction and feedback to the program.
PRPA has demonstrated beyond compliance performance in the Green Marine program, with higher levels achieved in all categories than most North American ports.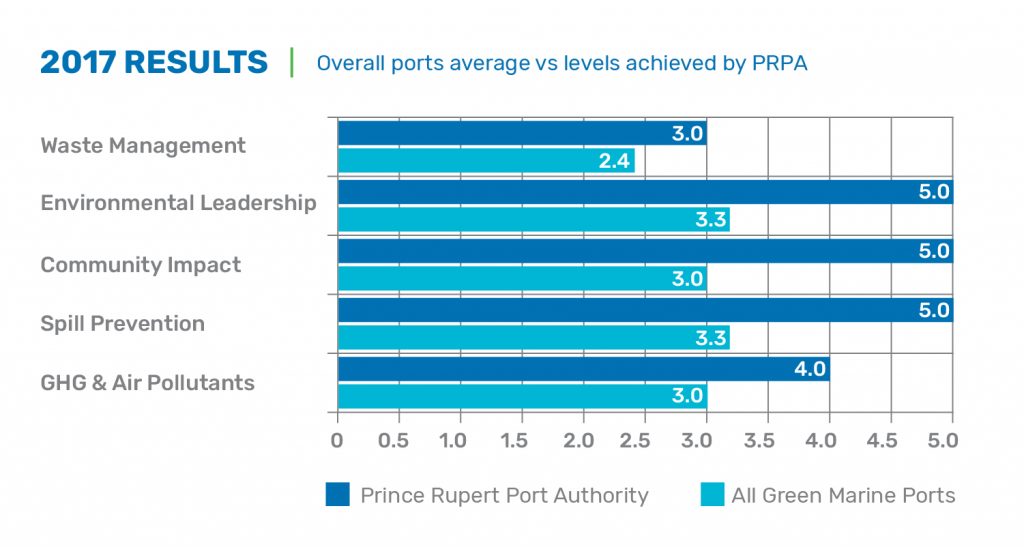 ---
In 2018, PRPA achieved the following levels for each performance indicator:
| | |
| --- | --- |
| Waste Management: | 4 |
| Environmental Leadership: | 5 |
| Community Impacts: | 5 |
| Spill Prevention: | 5 |
| GHGs & Air Pollutants: | 4 |
| Underwater Noise: | 3 |
| Aquatic Invasive Species* | n/a |
*Aquatic Invasive Species Not part of a performance indicator, but PRPA regularly monitors for and keeps a registry of any marine invasive species.
In addition to certification in a number of key performance metrics of the Green Marine program, PRPA received climate smart certification in both 2018 and 2019. Climate smart is a well-recognized BC program that works with organizations to inventory carbon emissions, reduce greenhouse gases, and provides criteria for certification standards. Learn more about the program and how your organization can become Climate Smart too, click here.
It is also worthwhile to note that the Prince Rupert Port Authority organization has been carbon neutral since 2015.
---
Learn more about Green Marine.