INTRODUCING PRPA'S PORTCAST WEBINAR SERIES
INTRODUCING PRPA'S PORTCAST WEBINAR SERIES
Prince Rupert Port Authority will be hosting a series of webinars in 2021 with a focus on the intermodal ecosystem of its world-renowned port operations. Register now to take part in the first session of this insider's look into Canada's fastest growing trade gateway and third largest port.
INTERMODAL SESSION 01
AN UPDATE ON THE PORT OF PRINCE RUPERT'S INTERMODAL GATEWAY ECOSYSTEM
Join us for the first installment in this industry-led webinar series covering an update on the Port of Prince Rupert's Intermodal Gateway Ecosystem. From rail, to reach, to operations, infrastructure, and expansions, an exciting and dynamic panel of experts will walk you through the array of investments happening at the Port of Prince Rupert, and specifically at DP World Canada's Fairview Container Terminal, to ensure Prince Rupert's position as a growing global gateway for North American trade. Hear first-hand how the Port's fast and reliable intermodal ecosystem is expanding to meet the demands of the future right now.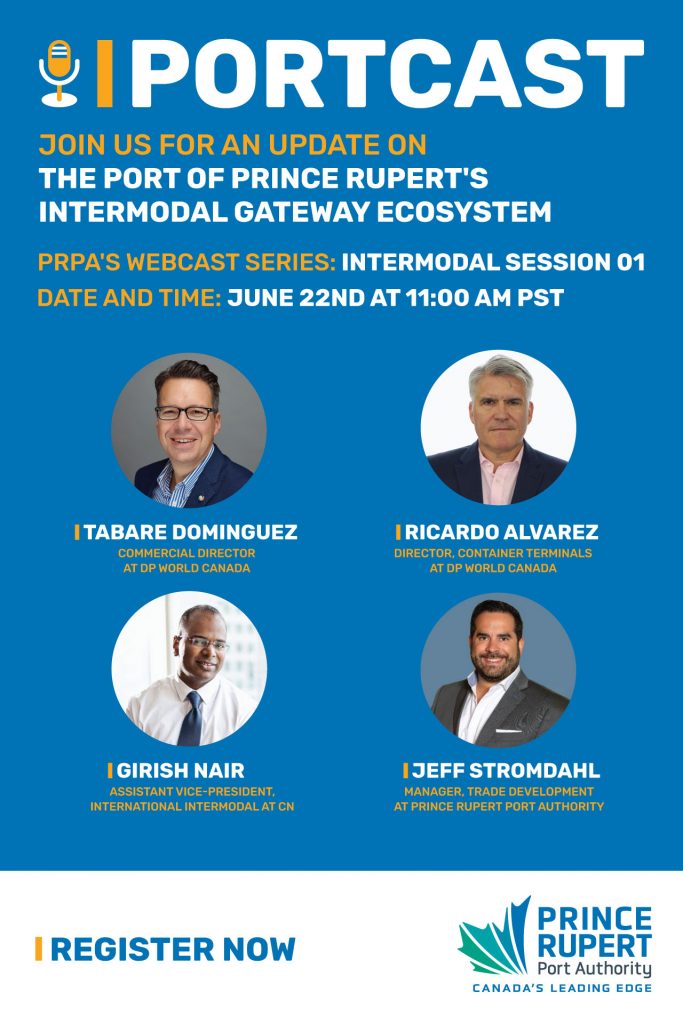 To register for our trade newsletter and receive follow up information related to these Portcast, click here.
STAY TUNED FOR MORE
The following sessions are coming soon:
Intermodal Session 02 – A Deep Dive Into Import Logistics – August 2021
Intermodal Session 03 – A New Frontier In Export Logistics – October 2021
See more events
Sorry, there are no other upcoming events